Brand Identity & Values

"We care, we empower, we succeed."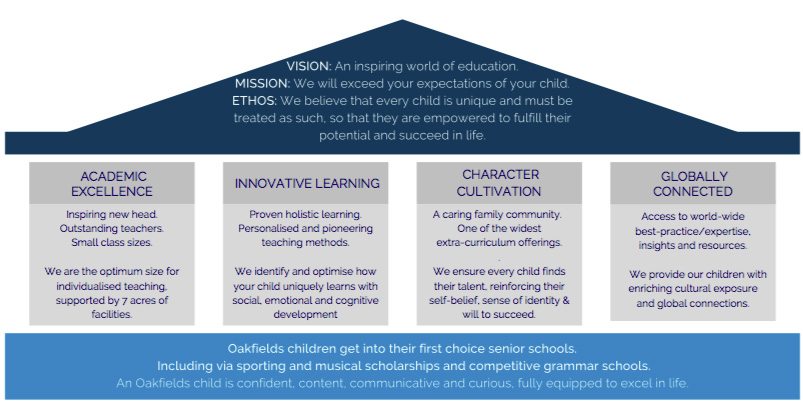 Oakfields Montessori DNA
As unique as our children…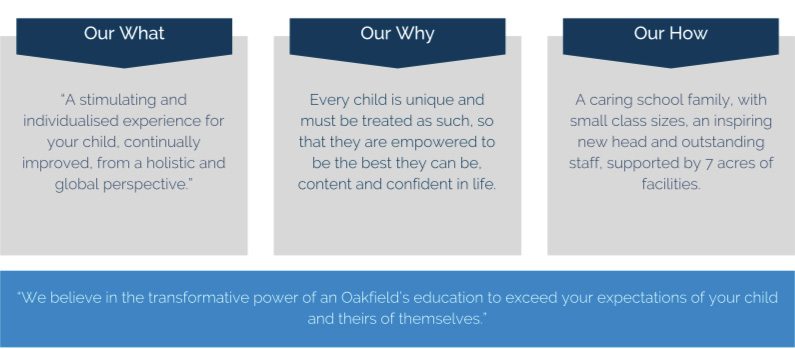 Our Ethos
"We inspire and empower our pupils with a passion for learning within a safe environment full of enthusiasm and purpose."
Our mission statement sums up our collective ambition to seek, develop and nurture every child's individual abilities and talents, instilling a love of learning in an environment that nurtures the well-being of the child to the full.
At Oakfields Montessori School, we aim:
To create a safe and happy environment that promotes learning and a positive attitude to work, where children are valued and proud of their achievements.
To know each child as an individual and identify, develop and nurture his or her talents and strengths, so they can grow in confidence and self-esteem.
To help children reach their full intellectual potential, through a wide range of educational experiences and rich learning opportunities, that broadens their knowledge, skills and understanding.
To provide a holistic approach, with a balanced focus on the intellectual, moral, spiritual, physical and emotional development of every child.
To foster a culture based on empathy, co-operation and respect, where pupils are aware of their behaviour and responsibilities towards home, school and the wider community.
To ensure we meet the needs of 21st Century children and their families, supporting their development for long-term success.
To differentiate work through inspirational and forward-thinking teaching, using flexible approaches and exciting facilities and resources.
To foster excellent relationships with parents and the local communities.
To offer maximum opportunity for the professional development of our staff.
Our Core Values
Created by our children
At Oakfields Montessori School, we aim to:
Try our best.
Be safe in school.
Adapt to change and see it as a positive.
Have the opportunity to learn through a range of experiences both inside and outside the classroom.
Feel part of a community.
Respect each other, our school and our environment.
Be happy and healthy.
Our History
Oakfields Montessori School was founded by Mrs. Kerrie Malandreniotis in 1988 as a Day Nursery in Gidea Park. The age range of the children was then extended to include infants and juniors and the school moved to Harwood Hall, Upminster in 1993.
On our arrival at Harwood Hall only a few classrooms were occupied but we quickly grew into a successful and thriving school. Oakfields became part of the Cognita Group, a leading international schools group in 2007.
Our Kindergarten was refurbished in 2013 and facilitates the essential environment needed to help each child to grow and develop and through playing and exploring they become engaged, curious and willing to try new things.